Horror is powered by Vocal creators. You support
Dee J Sâns
by reading, sharing and tipping stories...
more
Horror is powered by Vocal.
Vocal is a platform that provides storytelling tools and engaged communities for writers, musicians, filmmakers, podcasters, and other creators to get discovered and fund their creativity.
How does Vocal work?
Creators share their stories on Vocal's communities. In return, creators earn money when they are tipped and when their stories are read.
How do I join Vocal?
Vocal welcomes creators of all shapes and sizes. Join for free and start creating.
To learn more about Vocal, visit our resources.
Show less
4 Must-See Horror Themed Animes (Pt. 2)
Hulu Collection—Part 2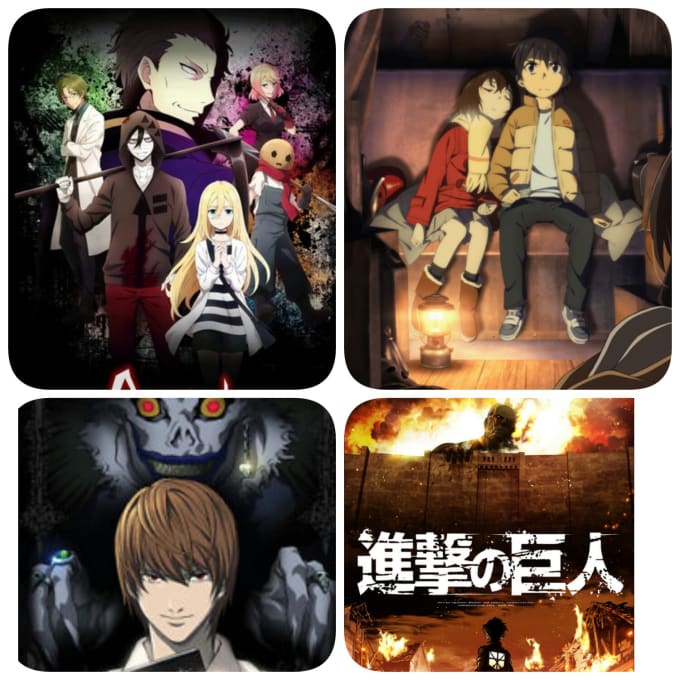 Hello and welcome to the second part of Hulu's Horror Anime collection! I have been hanging out with Hulu this past couple of weeks and now see my whole life in anime lol seriously; I love myself some good anime (dub or sub). Lately, it seems like I have been itching for an excellent plot with strong leads, insane action, and comedy to give me relief from the remarkable stories. I like to think that we are all like myself in that sense. Rarely I have to watch a relief show to help me get over spooky, creepy, or the horrific; but when I do, it is usually after a movie that scares me to tears. With Asian anime shows, I never feel the need to seek out that sort of relief because "relief" is such a massive part of their important stories. Without the comedy, our next set of Anime would be cringe-worthy enough for a quick visit to your nearest church.
'Attack on Titan' (Two Seasons and Ongoing)
Endangered humans hide behind walls protecting them from giant man-eating humanoids they call Titans. With a plot thick with treachery, sadness, famine, politics, strength, and so much more substance like gratefulness, I can NOT get enough of Eren Jaeger and the scouts.
This may be a figment of Hajime Isayamas' imagination, but nothing I have ever seen on a screen prepared me for this. With fans all over the globe feeling the way I do, AOT has brought something very different to the table. Many of you may disagree, but I find this to be appropriate for my nine year old to watch. Yes, there is some gore (Eren's mom for example) but allowing my child to watch this with me has opened up some pretty amazing discussions between us about emotions. I believe missing out on Attack on Titan is a missed opportunity to learn some things about humanity, even if it is animated.
'Angels of Death' (16 Episodes)
First and foremost this is NOT kid friendly. Get it? NOT KID FRIENDLY. A young lady finds herself in a seriously effed up situation with a scythe-wielding serial killer. This was a random choice I made on Hulu. I am neither disappointed, nor happy about it. Honestly, I do not know how to feel about this one. I had watched this with a friend (all episodes, yes) and still we remain confused about the ending; although, there is nothing to be confused about? Man, I don't even know... just go check it out. The creep factor is pretty weird, but if you like creepy things like me, then you are in for a treat.
'Death Note' (37 Ep. Divided into Two Parts)
A high schooler defeats evil by writing the names of evildoers in a notebook he found. The notebook comes at a price, and with a shinigami attached to it. 
I had watched this years ago. Seeing it on Hulu made me want to watch it again. It's worth the thrills and chills. Suspenseful and full of that brain- umami, Death Note is dark. As dark as it may be, this anime is full of life. If I ever make a "fave anime" list, you will see Death Note as one of my top 10. Also, stay away from the live action movie. Don't succumb to the clickbait phantom. It will most assuredly kill Death Note for you.
'Erased' (12 Episodes)
A young adult gets a chance to save his mother by going back 18 years into the past to prevent the deaths of a few school children from being murdered by a serial kidnapper. The only way to do so is being dependent on his gift (or curse) "revival."
This is definitely worth the watch. It is another top fave of mine. I really do need to create a favorite list, huh? So I had seen there is a live-action option for this anime and that is what I will be watching in the next coming weeks. I enjoyed Erased so much that I am now searching for the best price so that I may buy to keep in my personal collection. I love a good murder mystery and Erased surely kept me on my toes. This show reminds me of The Butterfly Effect with Ashton Kutcher without all of the bouncing around. Go watch it and feel free to let me know on Twitter what you think. I'd love to know what you would do with Satoru's ability.
Stay tuned for more Anime must-watch lists!