5 Most Intense Moments From Last Night's Midseason Premiere Of 'Fear The Walking Dead'
Last night's episode marked the return of Fear The Walking Dead for its second half of Season 3 with an explosive start.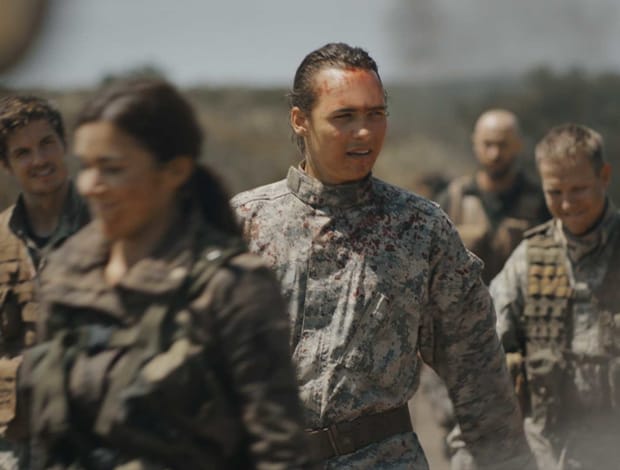 Walkers are back, everyone! We still have to wait a little over a month for our favorite zombie drama, The Walking Dead, to return for its eighth season, but you can satiate your thirst for brains with its companion series, Fear The Walking Dead, in the meantime.
Last night's episode marked the return of Fear The Walking Dead for its second half of Season 3 with an explosive start. The first episode packed in so much action that it's surprising the best moments weren't saved for a finale. Nevertheless, the episode turned out to be one of the most spectacular so far.
Here are the highlights from last night's Season 3B premiere of Fear The Walking Dead:
1. Guns Pop On The Otto Ranch
After welcoming Walker's group onto the ranch, some of the prior residents didn't like the idea of people who tried to poison them living on the same land. At an unexpected moment in the episode, Terrance, one of the ranch's residents, stands up and shoots a member of Walker's tribe. The outburst seems like it'll cause everyone on the ranch to take up arms against their neighbor, especially with the tension built up between the two factions already, but Madison finds a way to smooth the situation over with Walker. And fortunately, no unnecessary casualties come of the reckless attack.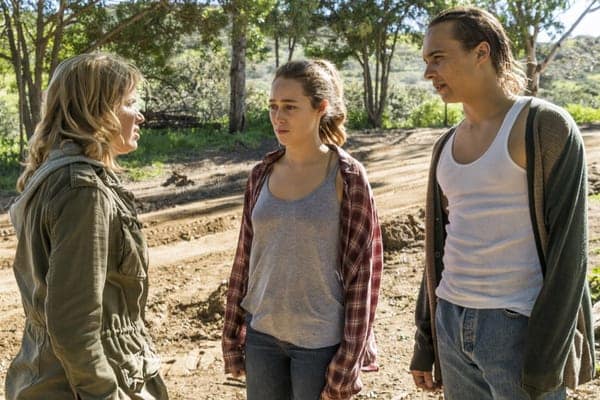 2. Troy Flips Out Yet Again
If you're familiar with Troy on FTWD, then you know he's the biggest wild card in the series, and the character most likely to react poorly to having his guns taken from him. When that moment came up in last night's episode, he didn't behave any differently than we expected him to.

Troy wound up going bananas when the guards came asking for his weapons, leading to him trying to shoot his way out of the situation. Luckily, Nick was in the cabin to calm Troy down, before the gang of men outside tore them to pieces with machine gun fire. Troy's outburst was followed by him being exiled from the ranch, along with getting Nick a trip to the hot box. Bear in mind that this isn't the last time we'll see Troy. He said it himself, he'll make his way back.
3. Tensions Build At The Water Well
Toward the midpoint of the episode, Walker's group and the Otto's residents start feuding at the well. One resident feels they're being wronged, and the guards in charge of the well just aren't having it, so they attempt to take over the well entirely. And that event doesn't go over well with anyone.
Soon, everyone is ready to take up arms. With the escalation building, the scene appears as if a war is inevitable but cooler heads prevail in the end. Keep in mind that the cohabitation of these two groups is bound to end in bloodshed, considering their past with one another.
4. Victor Strand Reunites With Madison
After Strand's plot thread was left somewhat untouched at the end of Season 3A, we expected him to be kept in the background of FTWD for a bit of time. But, we know he's definitely back in the action after the surprise entrance he made in last night's episode.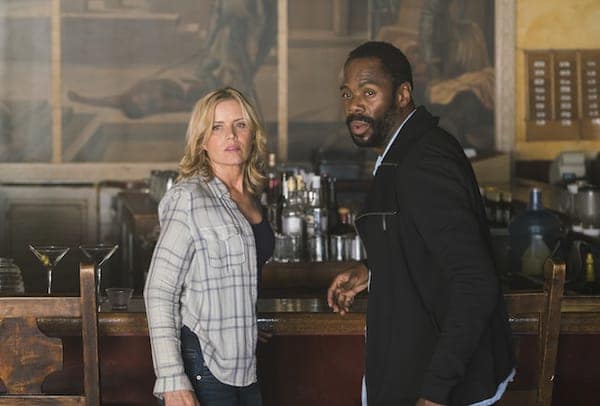 On Madison and Walker's mission to find more water, they traveled to a bazaar to trade goods. Madison finds a person among them to trade for water with, and almost strikes a deal when Victor Strand barges in unexpectedly. And in Strand-like fashion, he was in more trouble he could handle. Strand has become known for biting off more than he can chew in most volatile situations, and that apparently hasn't changed.
Fortunately for Strand, Madison came to his rescue and got his debt cleared this time around. I do think Strand probably wishes she would have been quicker with getting his debt paid up, though, mainly because he was an instant away from being devoured by walkers before the deal was struck.
5. War Breaks Out On The Otto Ranch...Almost
As previously mentioned, the two warring factions living at the Otto ranch are at each other's necks over water. With water becoming scarce, each person is close to freaking out over the shortage. Both sides are trying to get ahold of as much water as possible, and they're ready to do just about anything for it. And just when the tension building appears to finally reach its tipping point, something miraculous happens.
Nick, leading the charge to take the Walker's group's guns, notices that a group of their adversaries are digging a well. He doesn't pay too much attention, until he notices Alicia is standing out there in the hole, digging alongside them. It's then that Nick realizes this opportunity to solve a problem by uniting the two factions as well as preventing any more bloodshed. It's a win-win situation for him so he seizes the opportunity by reaching out to the people digging the well, followed by the ranch's entire community joining in to help.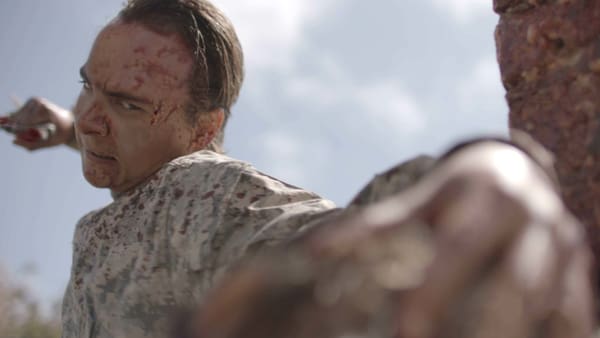 Hopefully, Nick keeps up this track of good behavior, because he may end up being the leader one day. And with the way things are going, all the current leaders at the Walker ranch are struggling to retain power and they're each in the other's line of fire, except Nick.