A Trilogy of Yorkshire Witches
As Compiled by a Fellow Yorkshire Witch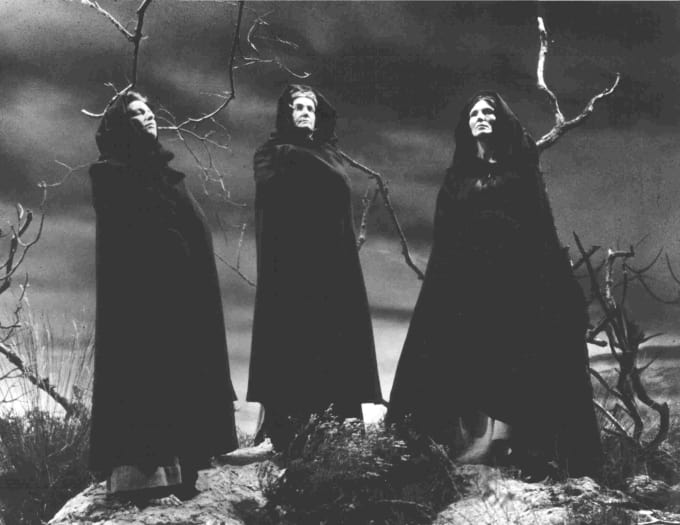 As a child Halloween wasn't the big commercial enterprise that it is now; I along with my sister and brother used to dress up in the obligatory home-made witch or wizard costume which comprised of a bin-bag gown, newspaper hat (coloured in with black paint), and my mother's papier-mâché warts and hook nose. Once dressed we would scour the estate knocking on every door "trick or treating," returning home some hours later with bags full of sweets. Then we would sit in our bedrooms late into the night scaring the hell out of each other with various ghost stories, often going to bed terrified having convinced ourselves that every shadow or noise in the dark was supernatural. My favourite stories were always the ones about witches, and today they are still my favourites.
So as a treat for like-minded witch-fanciers, I have compiled three witch tales about some witches, real or legendary, from the Yorkshire area.
The first of my trilogy is of course the most famous Yorkshire witch, Mother Shipton. Mother Shipton, baptised Ursula Southiel, by the Abbot of Beverley in 1488, is like the Arthurian legend in that not much exists to prove, or disprove, her existence. She was said to have been born in a cave in Knaresborough.
She allegedly made many predictions including the Great Fire of London, the Spanish Armada, and even the end of the world:
"The world then to an end shall come, in eighteen hundred and eighty one."
Fortunately she seems to have been wrong on this occasion; however one of her predictions could have been her downfall…had it not come true. In 1530, the disgraced Cardinal Wolsey intended making his very first visit to York, of which he was Archbishop. Mother Shipton declared that though he may see the city, he would never reach it. During his journey Wolsey took rest at Cawood Castle, eight miles away from York and climbed to the top of the castle's tower where he could view the city in the distance. After hearing of Shipton's prophecy he sent men to interrogate her and declared that when he did reach York, he would have her burned as a witch. However, three days before his anticipated enthronement at York Minster, he was arrested at Cawood on a charge of high treason and was conveyed back to London to face trial. During the journey he fell ill and died at Leicester Abbey. This was probably the foundation of Mother Shipton's legend, which has created a significant tourist attraction in her alleged birthplace. Many of her prophecies were not published until around 80 years after her death, so it is inevitable that her legend had by then been something like a game of Chinese whispers. Her story, whether fact or fiction, has a somewhat happy ending; she died at the very old age of 73 years having allegedly predicted the day and hour of her death.
The second in my trilogy is the gruesome tale of Mary Bateman of Asenby, North Yorkshire. She was known as the "Yorkshire Witch," although in truth she was nothing more than a con merchant. Born in 1768, around a century after the witch hunts of the 1600s, she was the daughter of a local farmer who sent her at the age of thirteen into service at Thirsk. At around 20 years old she relocated to York to work as a Mantua (dress) maker but fled to Leeds after commencing her life of crime. By the end of the century she was making a decent living as a "wise woman" prescribing charms and potions in days when doctors were an expensive commodity. She embarked on many money making scams in relation to her supposed abilities as a prophet, including one that included charging a penny a time to view three miraculous eggs that her hens had allegedly lain bearing the inscription "Christ is coming." People came in their hundreds to view the divine communication!
In 1806 she initialised a scam that would bring about her downfall. A local man, Mr. William Perigo of Bramley, Leeds, sought her help on behalf of his wife Rebecca. He explained that his wife had taken ill with a fluttering in her breast whenever she lay down. They had sought the help of a local doctor who had told them there was nothing he could do for her as she had been subjected to an "evil wish" so they would need to resort to the arts of sorcery in order to bring about her relief. Bateman's initial request was that Mr. Perigo bring one of his wife's petticoats, which had been worn close to the skin. The following week Perigo did as instructed, when he was informed she would consult with a "Miss Blythe" in Scarborough. She instructed Perigo to return the following week, by which time she would have received the necessary charm from Miss Blythe. Perigo attended as requested and was presented with a letter, supposedly from Miss Blythe instructing that "Mary Bateman should go to Perigo's house at Bramley, and should take with her four guinea notes, enclosed, and sew them into the four corners of the bed in which the diseased woman slept" the letter went on to state that the notes stay in the bed for eighteen months, and that Perigo was to give Bateman four guineas, Bateman would forward them to Miss Blythe in Scarborough. The letter finished by emphasising that unless all these instructions were followed the charm would not work. The four guinea notes that were "enclosed" were inside silk pouches and were sewn into the bedding without being opened.
The following month another letter arrived from Miss Blythe, instructing that two horseshoes be nailed on the patient's door, the nails be driven in by iron pincers, and then the pincers sent to Miss Blythe, via Bateman. Over the following months more letters arrived requesting items be sent via Mary Bateman. It was stated that all the items would be retained for the eighteen month duration of the charm. It was also stated in every letter that each letter be burned after reading, otherwise the charm would be broken. Over the ensuing months around seventy pounds (approx. ten thousand pounds in today's money) was paid to Miss Blythe via Bateman, each payment would procure a silken pouch containing the same value in coins or notes which was to be sewn into Mrs. Perigo's bed.
By now it can only be assumed that Bateman had realised she had taken the extortion to its limit so the story took on another turn. A letter arrived along with a package containing honey instructing Mr. Perigo to take the honey to Batemans house where Bateman would add to it ingredients that Blythe had sent directly to her. The Perigos were then instructed to eat puddings containing the "stuff" for six consecutive days; however, they were instructed that they must not let their child eat any. He was told that if they began to feel nauseas they were to take a spoonful of the honey. Again the letter instructed that it be burned after reading. Perigo did as instructed and Bateman mixed a white powder with the honey. He was then presented with six other powders (one for each day) with instructions for their use. The instructions stated that they must be used according to the directions on them otherwise the charm would not work. They were told to commence eating the puddings on 11th of May. The letter stated that on the 25th of May, Blythe would visit Mrs. Perigo and she must declare, "God bless you that I ever found you out." The Perigos did as they were bade and for the first five days they found they had no particular flavour; however, on the sixth day Mr. Perigo couldn't manage more than one mouthful before becoming overwhelmingly nauseous; his wife managed to eat more. They were both very ill and Mrs. Perigo took a spoonful of the honey as instructed, so desperate was she not to break the charm. Mr. Perigo slowly recovered, but Mrs. Perigo continued to take spoonfuls of the honey. On the 24th of May she died. On examination of her body no further steps were taken to ascertain the cause of her death, even though a surgeon expressed belief she had taken poison.
Mr. Perigo continued communication with Bateman, who expressed her belief that Mrs. Perigo must have died from taking too much of the honey at once. The letters from Blythe continued and stated that Mrs. Perigo had broken some of her conditions and had died as a consequence. She also said that Mr. Perigo would suffer "loss of one side," but that she would pray for his recovery. Again instructions were left to burn the letter. More demands for payments to cure him were received.
Eventually the eighteen month original time span had expired so Mr. Perigo decided to open up the bedding and retrieve his belongings—imagine his surprise when all he found were dried cabbage leaves and bad farthings! It now finally dawned on him that both he and his wife had been duped. He arranged a meeting with Bateman on the pretence of procuring medicine for his own ailments; he took along a justice of the peace and she was apprehended. A search of her property turned up almost every item she had extorted from the Perigos, as well as quantities of arsenic and mercury. Needless to say, Miss Blythe of Scarborough did not exist!
Mary Bateman was sentenced to death for the murder of Rebecca Perigo by poisoning. She had no remorse for her actions and in, some may say, just turning of the tables, when she was removed from her place of execution to be transferred to Leeds General Infirmary for her body to be anatomized, immense crowds gathered with a desire to see her remains; the officials decided to charge three shillings each to view the body which raised over thirty pounds (approx. £4000 today's value) for the hospital's funds. Mary Bateman still provides a tourist attraction today; her skeleton is on permanent display at Thackray Museum in Leeds.
The last witch in my trilogy was one of the famous Pendle Witches. Yes, I know the Pendle witches were from Lancashire, but Jennet was one was one of our own. Jennet Preston lived in Gisburn in Craven; she was tried at York assizes on 27th of July 1612 for the murder of Thomas Lister and was hanged two days later.
In 17th century England, Lancashire was known to be a place of ill repute due to the suspicion that some of the catholic suspects of the gunpowder plot had fled to the area. King James was highly superstitious and after publishing a booklet on the subject of witchcraft, incited a national witch hunt. He ordered every justice of the peace to compile a list of anyone suspicious, especially those that refused to attend church. Roger Nowell JP became obsessed with catching the witches in his jurisdiction, Lancashire, and the Pendle Witches were brought to his attention by way of a pedlar who complained of injury by witchcraft. Following Nowell's enquiries, a house was raided at Malkin Tower on Good Friday. Some of those present managed to flee and a witch hunt was initiated. One of the twelve people eventually arrested was Yorkshire woman, Jennet Preston.
It was alleged that the gathering was a meeting of witches who were conspiring to murder after Preston had solicited their help in murdering Thomas Lister, the JP in her earlier trial at York Assizes for the murder of a child by witchcraft—in which she was acquitted. It was reported that four days after the Good Friday feast at Malkin Tower, Lister died. In the moments before his death he proclaimed that Jennet Preston was in the room and pleaded with those present to apprehend her. When Preston was arrested she was taken to see the corpse and it was the report of Nowell concerning this incident that inevitably condemned her. Nowell testified that when Preston touched the body of Lister, the corpse bled fresh blood, something that could only happen if the corpse was touched by the hand that killed it.
Jennet Preston was executed by hanging on 29th July 1612; she was the first of the Pendle Witches to be tried. The other eleven were all dealt with in Lancaster; nine were found guilty and hanged at Gallows Hill. Elizabeth Southerns, or Old Demdike as she was known, died in custody awaiting trial. Of the twelve people accused of being present at the Good Friday Feast only one, Alice Grey, was found not guilty. Pendle Hill is now a tourist attraction and attracts many visitors, especially on Halloween. Having been there myself I can see the appeal, on a dark winter evening it feels as eerie as it looks.
As we now know, our knowledge is now based on science rather than superstition, many of the accused witches of the 16th, 17th, and 18th centuries were probably just the victims of overactive imaginations and malicious rumour. Although it is exciting to remember the legends and folklore to incite our fear on an evening when we are meant to be on edge and expect the unexpected, spare a thought for the real women, and men of Yorkshire, whose spirits probably do wander their territory, not because they were evil, but because of the extreme injustices some of them suffered.