Horror is powered by Vocal creators. You support
Tom Chapman
by reading, sharing and tipping stories...
more
Horror is powered by Vocal.
Vocal is a platform that provides storytelling tools and engaged communities for writers, musicians, filmmakers, podcasters, and other creators to get discovered and fund their creativity.
How does Vocal work?
Creators share their stories on Vocal's communities. In return, creators earn money when they are tipped and when their stories are read.
How do I join Vocal?
Vocal welcomes creators of all shapes and sizes. Join for free and start creating.
To learn more about Vocal, visit our resources.
Show less
Its' Not Easy Being Mean: Songwriter Loves That 'Easy Street' Was Used To Torture Daryl On 'The Walking Dead'!
If getting his wang out and then being fed dog food sandwiches wasn't bad enough, Daryl was subjected to the same song on repeat, night and day on The Walking Dead.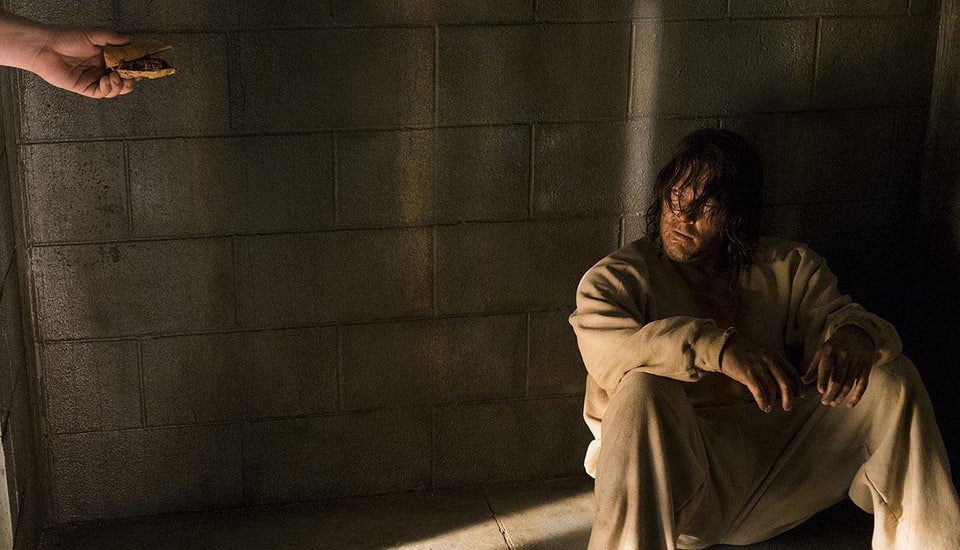 It is a method I have used before — turning my speakers to the wall at 2am and blaring out S Club 7 as a way to torture my housemate. Now it appears that the lyrical version of waterboarding has made it into mainstream TV in Season 7 of #TheWalkingDead, which unfortunately meant that the season's third outing, "The Cell," saw things looking pretty bleak for Daryl Dixon.
If getting his wang out and then being fed dog food sandwiches wasn't bad enough, Daryl was subjected to the same song on repeat, night and day. Don't pretend you haven't been humming it around the office — it is just so catchy, you just can't get it out of your head! The song is by a little-known band called The Collapsable Hearts Club, and just like Joanne, "Easy Street" is available to buy on iTunes.
It's easy to see why.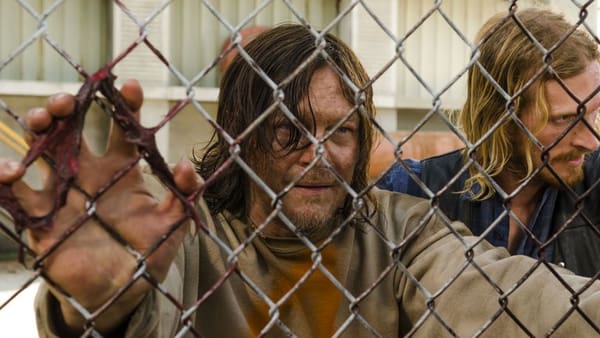 You would think that some people might be outraged at having their song portrayed in such a negative light, but writer James Bianco reveals that he was thrilled when his song was chosen to numb the mind of Daryl Dixon, and even took to Twitter to express his gratitude: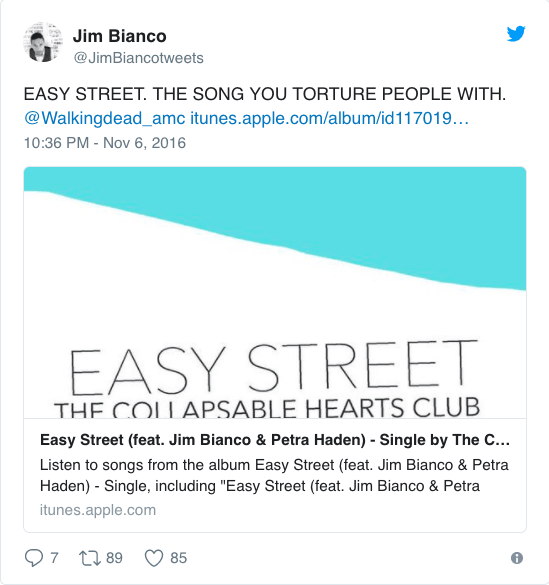 In an interview with The Independent, Bianco has since said:
"I didn't really understand why a show like The Walking Dead would want to use such an upbeat over-the-top, in your face "happy" song but now I understand - to torture someone, of course...I think the show used it brilliantly; framing such an upbeat song as a torture advice is a work of genius by the music supervisor."
Don't pretend that somewhere in The Sanctuary #Negan doesn't half a first generation iPod where he blares out "Easy Street" while he polishes #Lucille.
Pairing music and violence together is nothing new, and the soundtrack reminded us of the infamous "ear scene" from Tarantino's massacre Reservoir Dogs. The Walking Dead continues a long legacy of horror and music on our screens.
Bianco doesn't know how the song got into the show's hands, but he is more than happy to ride the wave of fame it has brought him, calling the idea "genius." Despite being a show about the undead, "Easy Street" offered a rare bit of humor to #AMC zombie apocalypse — even if it was used as medieval torture.