Horror is powered by Vocal creators. You support
Tom Chapman
by reading, sharing and tipping stories...
more
Horror is powered by Vocal.
Vocal is a platform that provides storytelling tools and engaged communities for writers, musicians, filmmakers, podcasters, and other creators to get discovered and fund their creativity.
How does Vocal work?
Creators share their stories on Vocal's communities. In return, creators earn money when they are tipped and when their stories are read.
How do I join Vocal?
Vocal welcomes creators of all shapes and sizes. Join for free and start creating.
To learn more about Vocal, visit our resources.
Show less
Keep Your Peepers Peeled: 'Jeepers Creepers 3' Gets A Terrifying First Trailer
Grab your fedora and unfurl those wings, because the Creeper is back.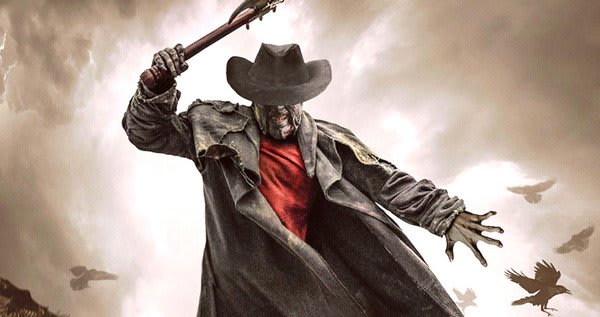 Grab your fedora and unfurl those wings, because the Creeper is back. After clawing its way out of development hell and being cocooned in a wave of controversy thanks to director Victor Salva, the forgotten threequel is finally making its way to cinemas. However, it sounds like you'll have to be quick if you want to catch the scent — this could be a blink-and-you'll-miss-it affair.

Creeping Up On Us
It hasn't quite been the 23 springs promised since the Creeper last had its feast, but with Jeepers Creepers 2 flying into cinemas back in 2003, there has been quite a wait to get here. Sadly, for those hoping that #JeepersCreepers3 will be a big fanfare affair to round off a trilogy, behind-the-scenes problems have relegated Jeepers Creepers 3: Cathedral to a limited one-night screening.

That being said, we also have a first trailer/teaser for the film, and it looks like the series is still just as hungry for horror as it was in 2001. Most notably, the Creeper is back to taunting its victims like in Salva's original and not some campy rip-off of sequel-worthy mediocrity. The villain of the pieces lost most of his edge when they revealed those dodgy prosthetics and that leathery skin, but let's not forget for a good proportion of the first film, the Creeper was this terrifying menace who lurked in the shadows. Hopefully we will get some of his Freddy Krueger-esque horror back and ditch the campy quality for the latest movie.
In a new era, Jonathan Breck returns as the titular monster, while Brandon Smith is also back as Sergeant Davis Tubbs. Expect Tubbs to stoically warn deluded bystanders that history is repeating itself, while the Creeper has his fill of innocents' body parts. It is also known that Gina Phillips will be reprising her role as Trish Jenner from the original movie, but will she manage to make it out of this one alive? In a statement, Salva said how he is reveling in returning the lore of the Creeper for the next installment:
"What will go before cameras as 'Jeepers Creepers 3' is a new and terrifying chapter from the Jeepers universe. We are bringing back the Creeper's truck, and will be addressing the big questions about The Creeper: what it is, where it came from and why it does what it does."
Interestingly, the third film is actually set in between the first and second, which is probably due to the fact that it had been planned even before the sequel hit cinemas in 2003. Although it was officially announced in 2003, it has certainly been a long road to Jeepers Creepers 3.
The movie may have been mired in problems, but that hasn't stopped the wheels of mayhem turning and a fourth film is already tentatively on the way. Looking at horror franchises like Final Destination and even Saw, sometimes a little shark jump and some time away is just what you need to get the blood flowing once again. Sure, the cinematic release of Jeepers Creepers 3 may be minuscule, but finding a home on disc and download shortly after, we should prepare for eye-gouging, head-ripping, wing-flapping fear from September 26.