Horror is powered by Vocal creators. You support
Madeline Zenk
by reading, sharing and tipping stories...
more
Horror is powered by Vocal.
Vocal is a platform that provides storytelling tools and engaged communities for writers, musicians, filmmakers, podcasters, and other creators to get discovered and fund their creativity.
How does Vocal work?
Creators share their stories on Vocal's communities. In return, creators earn money when they are tipped and when their stories are read.
How do I join Vocal?
Vocal welcomes creators of all shapes and sizes. Join for free and start creating.
To learn more about Vocal, visit our resources.
Show less
Most Frightening Horror Books of the Decade
If you're looking for a good scare, here are the ten most frightening horror books of the decade.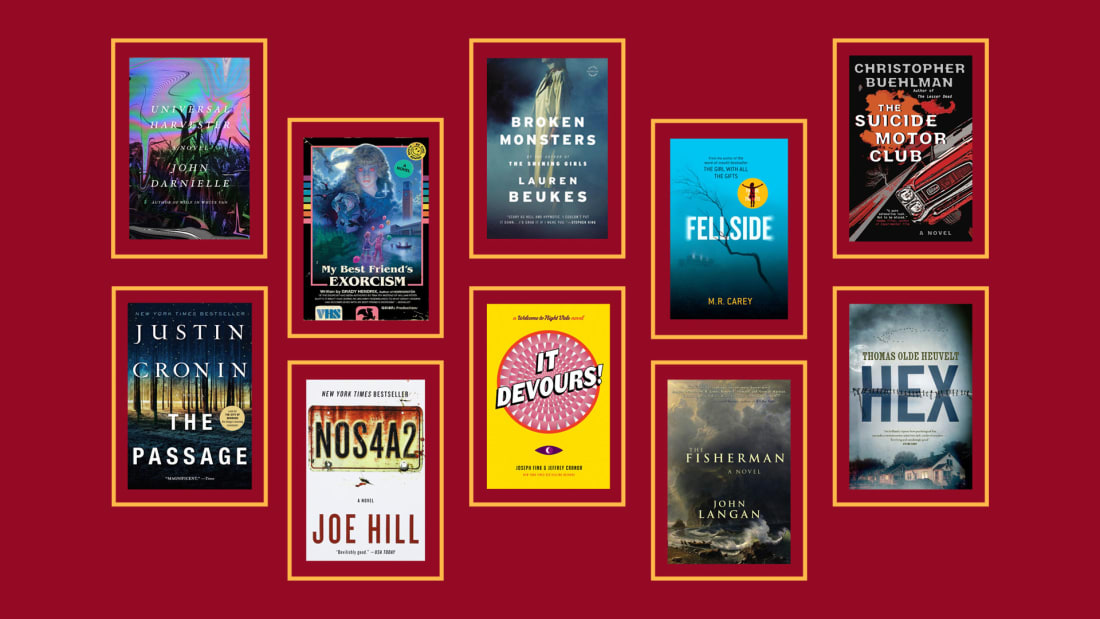 Stephen King may be the best horror writer of all time, but there have been many classic horror stories that have come out in recent years. Between different takes on ghost stories, psychological thrillers that combine supernatural elements, and best selling erotic horror novels, the horror genre has changed drastically over the years. We're starting to see horror stories that may not feature the usual blood and gore or include any shock factor. Now, horror stories are becoming more tense, giving more of an unsettling, creepy feel. Sometimes this can be even scarier as it can get more under your skin. Here are the ten most frightening horror books of the decade. 
'Broken Monsters' by Lauren Beukes
This bone chilling novel about the discovery of a human body fused with half of a deer's body is a gritty, tense detective mystery. When lead detective Gabriella Versado becomes intertwined with the case, she struggles to maintain the relationship with her daughter. Beukes alternates viewpoints between detective Versado, a homeless man, and a struggling artist, giving a complete retrospective of the situation. Set in Detroit, author Lauren Beukes captures the darkness in the corners of a decrepit city.
'My Best Friend's Exorcism' by Grady Hendrix
In My Best Friend's Exorcism, two high school friends embark on an acid trip. But when one disappears into the woods, everything changes. Written from the perspective of Abby, we witness a first-person view of her best friend being possessed by a demon. Author Grady Hendrix straddles a fine line between dark comedy and horror, which often explores the dissolution of a friendship but can't help but harken to the terrifying moments of The Exorcist, making it one of the most frightening horror books of the decade. 
'Fellside' by M.R. Carey
This riveting ghost tale is about a woman named Jess Moulson who burns down her apartment building during a heroin bender. But when she wakes up in the hospital and learns of a ten-year-old boy who died in the blaze she created, she becomes haunted by his ghost. Moulson is sentenced to life in prison, where the boy's ghost haunts her and encourages her to explore another world. The novel also explores the hierarchy of the prison and the guards inside it. Fellside is a story that dabbles in the supernatural while also exploring an astral dream world. 
'NOS4A2' by Joe Hill
One of the most frightening horror books of the decade tells the story of Vic McQueen, a young woman who tries to save her son from a supernatural killer that feeds off the souls of young children. When McQueen's son is abducted, she alerts the police, who try to stress that the killer, Charles Manx, is already dead. McQueen is interviewed by criminal psychologists who don't believe her story about Manx and his supernatural underworld called "Christmasland." NOS4A2 was recently picked up by television network, AMC, to be developed into a new series next year. 
'Universal Harvester' by John Darnielle
This creepy novel by John Darnielle—also singer-songwriter of The Mountain Goats—takes place in the late 90s before the dot com boom. When Jeremy Heldt, a clerk at a video store in Nevada, discovers tapes featuring violent clips dubbed over a movie, he becomes suspicious of his customers. Heldt and his boss become obsessed with the tapes as they try to figure out who is in the tapes and where it's being filmed. Darnielle writes with a nightmarish tension reminiscent of David Lynch's Lost Highway that gives this book a sense of loneliness. 
'It Devours!' by Joseph Fink and Jeffrey Cranor
This mystery explores a community in the desert and all of the spirits, ghosts, and angels inhabit it. Authors Joseph Fink and Jeffrey Cranor incorporate conspiracy theories and meditations on faith, love, and science into one of the most frightening horror books of the decade. It Devours! is a continuation of Welcome to Night Vale, a successful podcast about the same community. In the novel, a scientist and a person of faith try to find common ground in order to save the town. 
'Hex' by Thomas Olde Heuvelt
Hex takes place in a small town in New York whose citizens are consistently haunted by the ghost of a witch. They even track the witch's whereabouts via a phone app called the Hex mobile app. Although citizens are not allowed to leave the town, they try to discourage others from moving there. When a group of teenagers attempt to expose the witch to the rest of the world, the town's council interferes to disrupt their attempt, as it violates the town's laws. 
'The Suicide Motor Club' by Christopher Buehlman
Set in the 1960s, one of the most frightening horror books of the decade details the adventures of a group of vampires riding in muscle cars across America. The Suicide Motor Club is a captivating road story that makes the violent gang likeable, but also villainous. When they attack a woman and her family, the woman joins a convent that hunts vampires and seeks revenge. Instead of glamorizing and romanticizing vampires like in Twilight, Christopher Buehlman captures the brutality of violence. 
'The Fisherman' by John Langan
The Fisherman begins as an innocent fishing tale about two coworkers dealing with the loss of their wives. But things take a turn when the two men encounter a man known as The Fisherman, who tells them horrifying stories that force the two men to reconcile with their pasts. John Langan writes with an elegant prose that shifts from two different time periods while creating a sense of uneasiness. 
'The Passage' by Justin Cronin
This bestselling novel is one of the most frightening horror books of the decade. The apocalyptic zombie story doesn't teach you how to survive a zombie apocalypse, but it does detail the deadly outbreak of a virus and the fight for survival over the course of 90 years. The Passage is an ambitious epic that follows a girl abandoned by her mother at the age of six who discovers she has the ability to save the world. Justin Cronin earned comparisons to other writers like Michael Crichton for developing his own world with creepy undertones. A television adaptation of The Passage series has been in the works for years.