Horror is powered by Vocal creators. You support
Sean Patrick
by reading, sharing and tipping stories...
more
Horror is powered by Vocal.
Vocal is a platform that provides storytelling tools and engaged communities for writers, musicians, filmmakers, podcasters, and other creators to get discovered and fund their creativity.
How does Vocal work?
Creators share their stories on Vocal's communities. In return, creators earn money when they are tipped and when their stories are read.
How do I join Vocal?
Vocal welcomes creators of all shapes and sizes. Join for free and start creating.
To learn more about Vocal, visit our resources.
Show less
Movie Review: 'Porno'
'Porno' is a strange mixed bag of comedy and horror.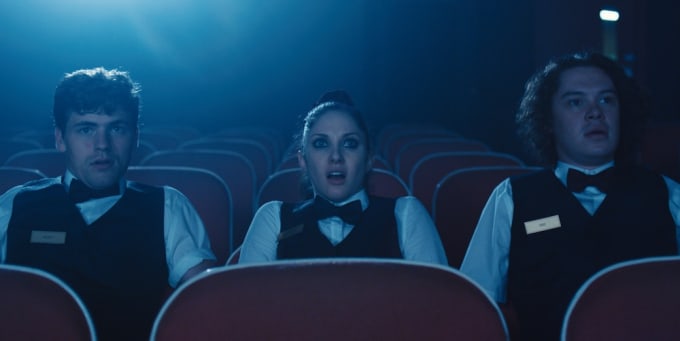 Porno is a mixed bag of horror and comedy. Porno is a horror comedy that involves a small town movie theater that is cursed by a sex demon, though owned by a religious fanatic. One night, after the owner has gone home, and the teenage staff is going to watch a movie, when a crazed homeless man bursts into the building and runs through a wall.
Behind the wall, hidden from the rest of the movie theater, is a whole other screen and an archive filled with films that have been burned. All of them burned save for one. Being that the staff has been allowed to stay late and watch a movie, they choose the movie they found in the basement and assuming the crazed homeless man has left the building, they sit down to watch.
Among the staff are the assistant manager Chastity (Jillian Mueller), projectionist Heavy Metal Jeff (Robbie Tann), and ushers Todd (Larry Saperstein), Abe (Evan Daves), and Ricky (Glenn Stott). The movie they watch is an ancient and cursed porno movie, in which a demon is summoned and bathed in blood. The movie is not sexy at all, and is instead quite disturbing. Worse though is the fact that it lets loose a demon named Lilith (Katelyn Pearce), who can embody the desires of anyone in order to lure them to their death.
Porno is a first feature length effort from director Keola Racela. Working from a script by fellow first time feature writers, Matt Black and Laurence Vannicelli, Racela demonstrates a unique approach to visual style and a standout eye for the use of color. I enjoyed the odd cinematography of John Wakayama Carey which makes the most of the limited sets inside this small town movie theater.
Unfortunately, the script left me a tad bit cold. I laughed a few times and the young cast kept me engaged and involved but the movie came up short in the end as both a comedy and a horror movie. It's not funny enough or scary enough for either of the genres to stand out and give Porno a fully fleshed out identity. The cast certainly appears to be playing comedy with their big, broad reaction shots but the score keeps pushing the not so scary horror movie and undermines the comedy.
There doesn't appear to be all that much at stake in Porno. Characters are killed but I didn't fear much for the main cast. Bad things happen but the stakes don't appear to be in place for things to matter beyond a few shock visuals. There are numerous penises in Porno and each is intended to be funny and what happens to them is intended to be scary but I was neither laughing or frightened by the shriveled up members on display in Porno, despite the efforts of the cast.
I did enjoy this cast, particularly newcomer Jillian Mueller as Chastity. Though she has the least arc of any of the characters in Porno, Mueller is unquestionably the most charismatic of the group and she proves to be a solid center for the story. None of the actors are bad at all, Mueller just stands out because she demonstrates a stronger, unforced screen presence than the rest of the cast.
Porno is not a bad movie, it's just not quite good enough for my taste. It's not shocking enough, it's not scary enough, it's not bold enough to make the most of this premise. There is an odd runner in the movie about the phrase "Christ Bears the Load." It appears, in the beginning, to be a rather comic, and unwieldy catchphrase but by the end, the movie is kind of asking us to take it seriously and given that this is a movie called Porno, it rang rather hollow for my taste, proving to be a good example of my feelings about the whole of Porno.
Porno is debuting at the SXSW Film Festival.