Horror is powered by Vocal creators. You support
Abstract Ammy
by reading, sharing and tipping stories...
more
Horror is powered by Vocal.
Vocal is a platform that provides storytelling tools and engaged communities for writers, musicians, filmmakers, podcasters, and other creators to get discovered and fund their creativity.
How does Vocal work?
Creators share their stories on Vocal's communities. In return, creators earn money when they are tipped and when their stories are read.
How do I join Vocal?
Vocal welcomes creators of all shapes and sizes. Join for free and start creating.
To learn more about Vocal, visit our resources.
Show less
'NOS4A2' Spoiler Free Season Review
A Review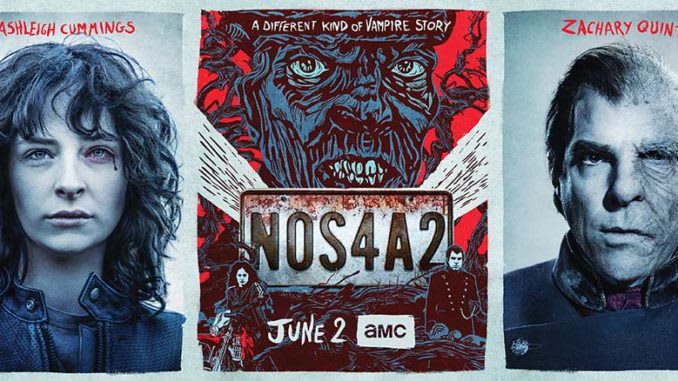 Let me start off this review by stating the absolute obvious to any of my frequent readers who have been following me on all platforms since my days at the Radio Station had ended, you know this. But for those of you who are new: I love this book. 
WonderCon 2019
So when I first heard that AMC had picked up the rights and the works for a television adaptation of NOS4A2, I was struck with a mixture of excitement, curiosity, and of course, worry over the outcome of the final product.
Nonetheless, my hype for this show was real. I was excited, I picked up the book after what seemed like forever, and got lost at Sleigh House. 
Remember that worry feeling I was talking about in the above paragraph? Well, I felt that bit, just a little when I heard that Vic McQueen—our Protagonist, would be a teenager. 

And yea, guys, she is. 
But by making her an age that people genuinely associate themselves with (the young adult trope), and making her discover her ability at a later age, writer Jami O'Brien made Vic McQueen a freaking badass for Global Viewers. 
At WonderCon alone, NOS4A2's Pilot episode received an amazing review and that just made me all the more excited to see it.  
My First Thoughts
Last weekend I sat down and watched the first episode of NOS4A2, and boy was it a trip. I really wasn't expecting to love it as much as I did. 
I couldn't wait until this weekend, and then next and the following; I needed to know how the rest of season one was going to pan out so I could see if it was worth even writing about, and you know what? I think it's worth coming back to YouTube for. I haven't uploaded a BookTube video in so long, and this season has me wanting to re-read all of my Joe Hill collection. Again. And come back and review them in front of a camera. 
So I went online to amc.com, and paid the $4.99 to watch the full season. It's very much binge-worthy. I will be getting this on Blu-Ray after the finale drops in August (so far from now). I also discovered after watching the first season (twice) that there's an AMC online exclusive episode called "Ghost" that you should also check out.  
About the Story
For fans of the book, and its comic book series Wraith, you'll definitely spot a few gems as the season progresses. For those curious of the show, it's a Fantasy/Horror TV adaptation of Joe Hill's book with the same name NOS4A2. 

It follows Young Adult Vic McQueen, as she discovers she has a supernatural ability, and a gift 'at finding lost things. That puts her on a collision course with an evil immortal' named, Charlie Manx. 
It's dark, it's horrifying, but each and every week it'll have you on the edge of your seat wanting more and more. 
Audience Feedback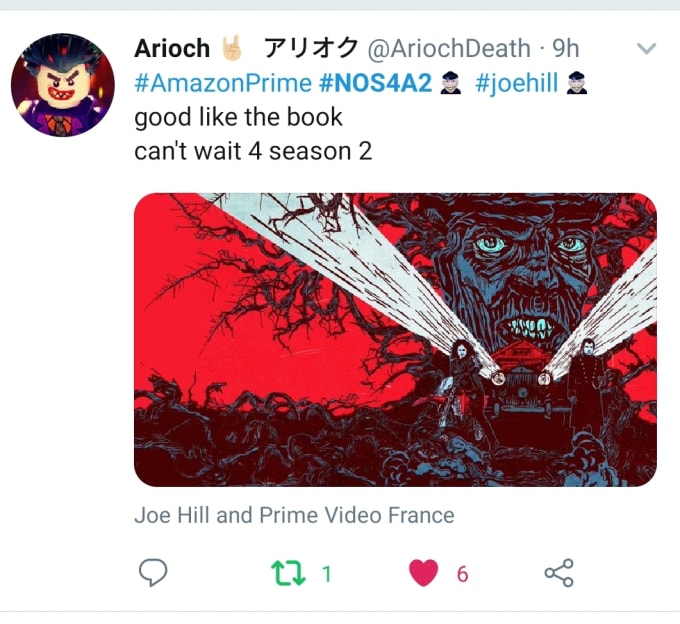 If my very brief Spoiler Free Review of NOS4A2 hasn't won you over yet, please take a moment to check out some of these quick tweets from fans all over the world raving about NOS4A2: 

And that's just stuff I pulled from the top page on Twitter. My mentions were filled with responses, and even a thank you from Jami O'Brien herself for the literal Geekdom that oozed out of my being after I binged watched the season the first time. 
So yes, I think. No! I know, that if you, Dear Reader are a fan of Horror and Fantasy then you should definitely check out NOS4A2 on AMC this Sunday at 10/9, or at the AMC app, or on Demand. Also as of last night, you can binge the first season in its entirety on Amazon Prime.