Not Caught Up With 'Ash vs Evil Dead' Yet? Here's a Handy Guide to the 'Evil Dead' Universe
I'm going to take you through time and space into the world of the 'Evil Dead.'
Now listen up, you primitive screw-head! Not my words, but words from the mouth of Ashley Williams, the main protagonist in Sam Raimi's undying horror series that is The Evil Dead. I've been completely bonkers about these ever since I first caught the original movie on late night television here in the UK. It gave me the drive to pick up a camera and make my own crazy movies, not to mention be afraid of books with scary faces on the cover. However I'm aware that not everyone knows the history behind the Starz series, so I'm going to take you through time and space into the world that is — put simply — groovy!
Oh and spoilers are probably a given:
The Evil Dead (1981)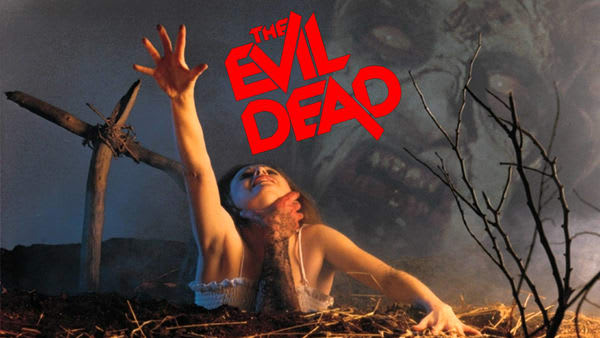 The first incarnation of the series, which was the collective big break for director Sam Raimi, actor Bruce Campbell and producer Rob Tapert. Desperate to make their way into the world of filmmaking, Raimi concocted a script that would, decades later, read like a solid blue print for budding horror filmmakers the world over.
The Plot?
Five friends vacation at a cabin deep in the woods and discover a strange tape recording and a book that is bound in human flesh. Playing the recording it releases an evil force in the woods that possesses each person one by one leaving a lone survivor, Ash, trying desperately to make it out in one piece.
The film is very close to being a perfect horror movie, all the elements seem to be lined up and the tension notched up to 11. A startling debut by "amateur" filmmakers became a cult hit almost immediately on release, thanks to a glowing endorsement by writing legend Stephen King himself who called the film "the most ferociously original horror film of the year."
Featuring blood by the gallon, it literally drips down the screen, and a tree rape scene that seemingly got the film on the BBFC's "Video Nasty" list back in the mid-80's. The film was shocking, funny and a shot in such an inventive manner it feels like your on a bad drug trip (that's a good thing). To say it was made on a minuscule budget of around $375,000 it goes to show what can be done against all the odds and way back before digital was an option.
Evil Dead II: Dead By Dawn (1987)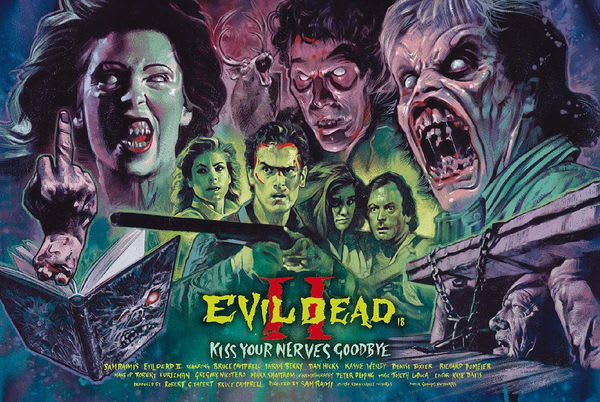 This is the movie I usually say is my favorite of the series due to it's change in tone as it leans more towards a horror/comedy. It also features dancing furniture and Ash having to fight his own possessed hand. Quite frankly, it does what many sequels fail to do and (in some ways) outshines the previous movie.
The Plot?
A young man, named Ash, takes his girlfriend, Linda, to a secluded cabin in the woods where he plays back a professor's tape recorded recitation of passages from the Book of the Dead. The spell calls up an evil force from the woods which turns Linda into a monstrous Deadite, and threatens to do the same to Ash. When the professor's daughter and her entourage show up at the cabin, the night turns into a non-stop, grotesquely comic battle with chainsaw and shotgun on one side, demon horde and flying eyeball on the other.
Now you're probably thinking: Why the hell does Ash go back to the cabin in the first place? To cut a VERY long story short, they didn't have the rights to use any of the first movie's footage so instead opted to begin the film with an extremely condensed version of it. Sounds bizarre — and it is — but the film bypasses all this to become a genre-busting horror romp that lends more from The Three Stooges than say, Night of the Living Dead.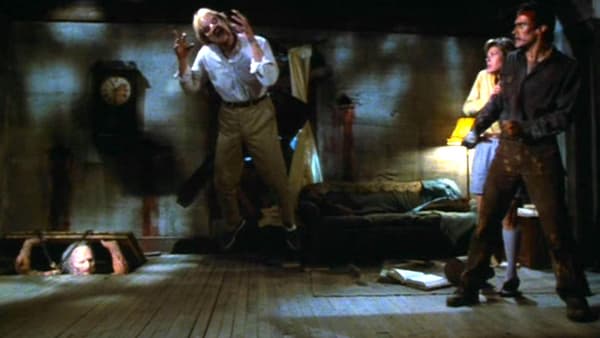 As Ash survives yet another night of torment from demonic deadite entities, we start to see a hero rise from this former "smart mouth" character as it soon becomes clear he's destined to save the world. In one of the most epic endings in movie history — by trying to send the evil back from whence it came — Ash is thrown back in time to the middle ages and it ends with our hero realizing he has a lot more work to do. It's enough to drive even the most sane person over the edge:
Army Of Darkness: The Medieval Dead (1992)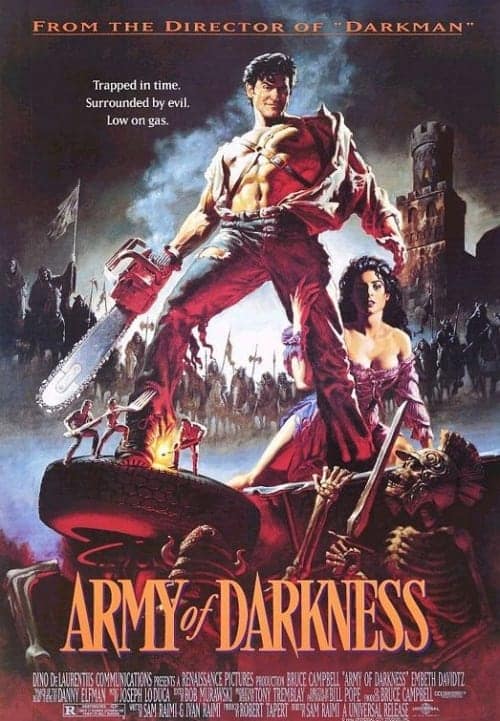 Playing like the novel A Connecticut Yankee in King Arthur's Court, Sam Raimi rounds up the trilogy with the most off-beat installment yet. Ash battles skeletons, deadites and his own ego to try and make his way back to the present day.
The Plot?
A man is accidentally transported to 1300 A.D., where he must battle an army of the dead and retrieve the Necronomicon so he can return home.
This installment has widely divided fans of the Evil Dead for being a little too silly in parts and a somewhat disappointing finale to the series. I wasn't as sold on this one when I first saw it on VHS, but I think that was because it was so different from the two previous films. There's a lot to enjoy in this outing including new deadites, bigger battles and (last but not least) more Ted Raimi cameos than you can shake a stick at. Plus, Ash is played to his comic best and is given a complete overhaul as the movie is solely and firmly on his shoulders. God help the world.
Evil Dead: The Video Games (2000, 2003, 2005)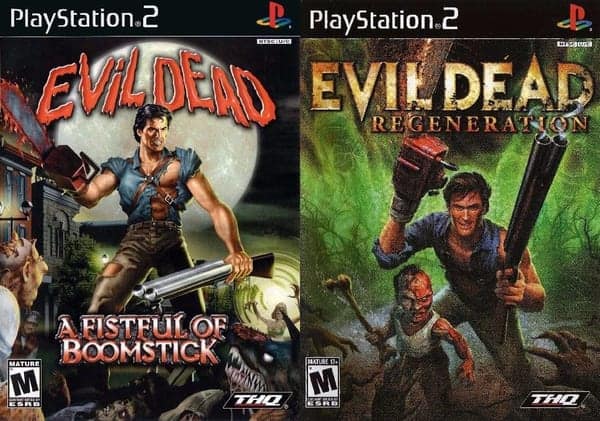 While the rumor mill kept on teasing fans with a possible fourth outing for Ash, it wasn't until 2000 that we got a decent follow-up in the guise of a platform shoot 'em up Evil Dead: Hail to the King.
The success of the first game prompted the following two, Evil Dead: A Fistful of Boomstick and Evil Dead: Regeneration. For the first time you could explore those locations like the infamous cabin at your leisure with a chainsaw on one arm and a shotgun in hand. I'm not much of a gamer, but I couldn't get enough of these and the third Evil Dead game, Regeneration, is the last title I ever went to the shops to get on the day it was released (I ended up buying a used copy that was $15 cheaper, must have been a staff copy they played or something).
As if that wasn't cool enough, Ash is voiced by none other than Bruce Campbell himself! In fact, part of the fun in playing was to hear him deliver new and old one-liners in the games. Plus, if you continuously click on pointless background props he would usually insult YOU the player. Bliss.
Evil Dead (2013)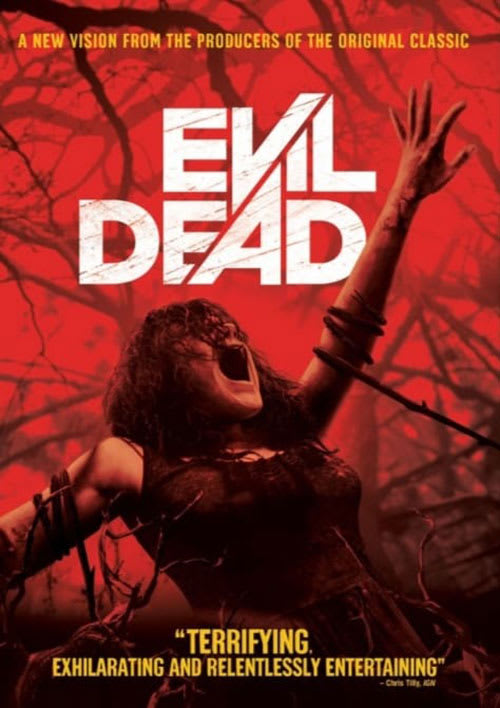 The reboot! Which made fans very upset as they figured this was the final nail in the coffin for Evil Dead 4. The movie isn't a shot-for-shot remake and does have it's own twists and nods and over all is a pretty fun movie. Having watched it again recently, I was surprised how gory it was and how much I really liked it.
I'll skip the plot points, the main thing you need to know is this doesn't connect (so far) to the known Evil Dead universe. Eagle-eyed fans were quick to point out the classic 88 Oldsmobile — Ash's signature ride and Sam Raimi's personal car — which is laid to rest behind the cabin. However, there is no mention of previous events, so we must take this reboot as a new beginning.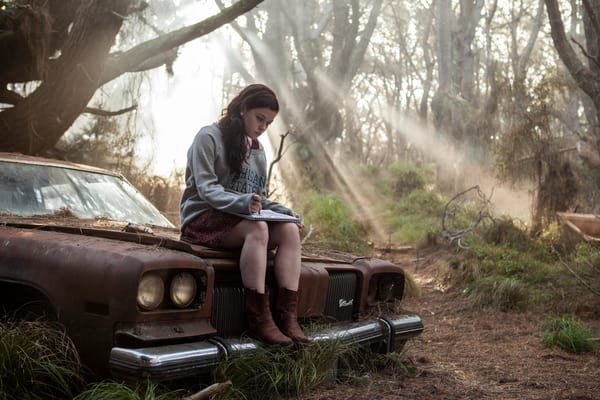 However, since credits nowadays often hide cinematic gems, there was an extremely short scene that appeared at the very end which, I believe, really made Ash vs Evil Dead a possibility:
Ash Vs Evil Dead (2015–Present)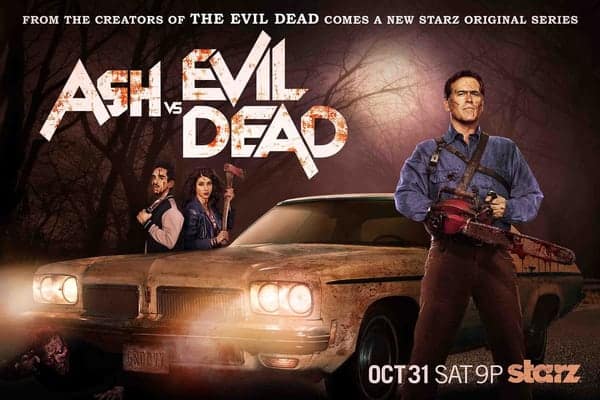 Finally! The reason you're here, debuting in October last year to a stunned audience of old and new fans alike came Ash vs Evil Dead. Initial reports of this in production left me feeling a little upset as I didn't see how they could comfortably bring Evil Dead to the small screen. Thankfully, with Raimi, Tapert and Campbell back on board, it kicked straight back into high gear and left me literally screaming with joy.
The Plot?
Ash has spent the last 30 years avoiding responsibility, maturity and the terrors of the 'Evil Dead' until a Deadite plague threatens to destroy all of mankind and Ash becomes mankind's only hope.
Wanna see ME geek out about it in person? See my trailer reaction below:
So Ash vs Evil Dead seems like it's done the unbelievable by breathing new life into an old franchise and keeping pretty much everyone happy in the process. Season 1 had a ton of surprises scattered throughout, not excluding Ash having to dye his hair and wear a girdle. Seriously though it's a series you need to get into while it's here and I mean that, with help from us fans it could run for many years to come.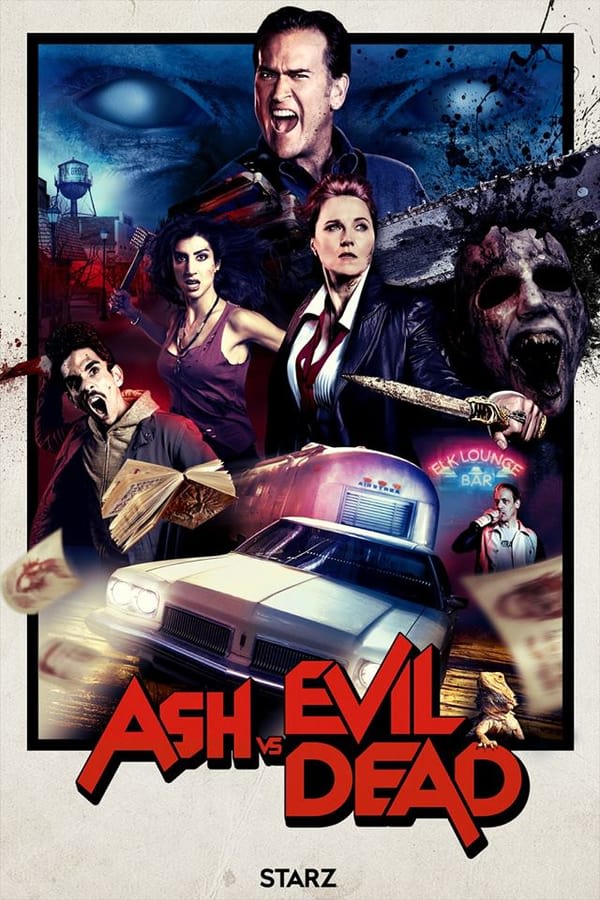 So there you have it, over 30 years worth of content for you to catch up on, and there's no time like the present. If you're an old diehard fan then maybe it's time to dust off that DVD shelf and seek out your various Book of the Dead editions and pop them in your player. Frankly I'm wanting to upgrade to Blu-ray as I don't want to miss a single gory detail.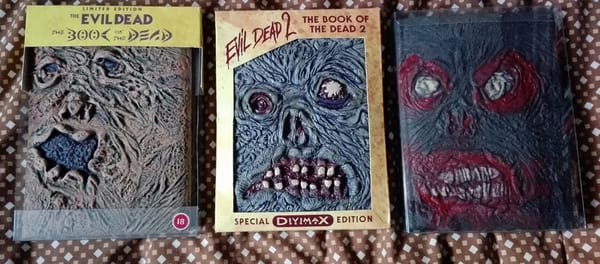 Ash vs Evil Dead returns on Starz this October. So, I don't know, maybe watch it.