Horror is powered by Vocal creators. You support
Tom Chapman
by reading, sharing and tipping stories...
more
Horror is powered by Vocal.
Vocal is a platform that provides storytelling tools and engaged communities for writers, musicians, filmmakers, podcasters, and other creators to get discovered and fund their creativity.
How does Vocal work?
Creators share their stories on Vocal's communities. In return, creators earn money when they are tipped and when their stories are read.
How do I join Vocal?
Vocal welcomes creators of all shapes and sizes. Join for free and start creating.
To learn more about Vocal, visit our resources.
Show less
Playtime Isn't Over Yet: New Line's 'Annabelle 2' Gets A New Title And Logo
Scheduled for an August 11 release, Annabelle 2 has undergone a slight change, dropping its sequel indication to be retitled Annabelle: Creation.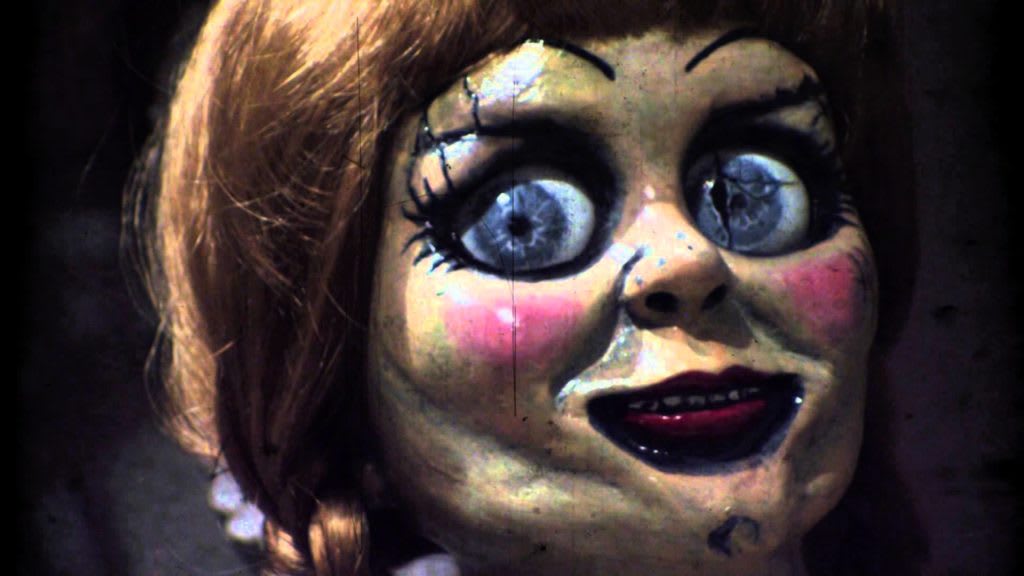 Creepy clowns courtesy of Stephen King's IT are bad enough, as are haunted animatronics in Five Nights at Freddy's, but now we are revisiting creepy girl doll Annabelle. Showing off at #CinemaCon in Las Vegas, IT wasn't the only #WarnerBros title that got to share the #horror hype.
Scheduled for an August 11 release, Annabelle 2 has undergone a slight change, dropping its sequel indication to be retitled Annabelle: Creation. The first Annabelle was a spin-off from The Conjuring and followed a demonic cult, a possessed doll, and more horror rip-offs than you could throw a toybox at. With none of the cast returning from 2014's film, it is unknown how the two films will tie together.
Not your standard Barbie.
The news was announced when director David F. Sandberg shared a new logo for Annabelle 2, which confirmed the name change. Does this mean that #NewLine's porcelain psychopath will be getting her own origin tale? Personally, I was fine with Annabelle 2, but the adding of Creation implies that there will be a back-to-the-start approach. It is said that the sequel will focus more on the doll's maker, while this time a grieving mother and father will open their doors to a nun and her closed orphanage of children, who are all ripe for the slaughter.
A New Beginning
Sandberg also revealed that Warner Bros. wanted to ditch the "2," which seems to imply more of the same. Well, with the first film dragging 29 percent on Rotten Tomatoes, perhaps less of the same could be a good idea. Gary Dauberman, who penned the first film, returns, but that seems to be about it, essentially hitting a restart button on the series (after only one film!). Even in the depths of despair and its worst entries, the Chucky franchise has never gone back in time, so how will that fare with the latest possessed toy?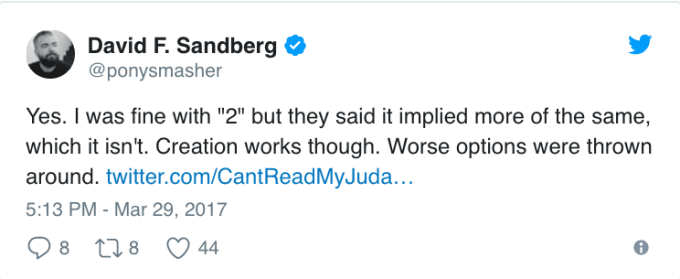 The fourth installment in the Conjuring franchise hopes to keep the surprising success of the series alive, and with Sandberg's previous credits including Lights Out, at least we know he can craft a good jump scare. Elsewhere, a Cure for Wellness composer Benjamin Wallfisch is on board, and the new cast includes Narcos' Stephanie Sigman and Miranda Otto from Lord of the Rings fame.
New Line doesn't really need to worry about the financial success of Annabelle: Creation, but if the film repeats its predecessor, it may be time to take the batteries out of series and put her back in the attic.