Horror is powered by Vocal creators. You support
Tom Chapman
by reading, sharing and tipping stories...
more
Horror is powered by Vocal.
Vocal is a platform that provides storytelling tools and engaged communities for writers, musicians, filmmakers, podcasters, and other creators to get discovered and fund their creativity.
How does Vocal work?
Creators share their stories on Vocal's communities. In return, creators earn money when they are tipped and when their stories are read.
How do I join Vocal?
Vocal welcomes creators of all shapes and sizes. Join for free and start creating.
To learn more about Vocal, visit our resources.
Show less
This Could Be Your Big (Out)Break: 'The Walking Dead' Star Demands To Know What Caused The Zombie Outbreak
With AMC's The Walking Dead dragging its rotten corpse to its biggest and bloodiest season ever, fans can rejoice that there will be more murder, mayhem, and mysteries than ever before in Season 8.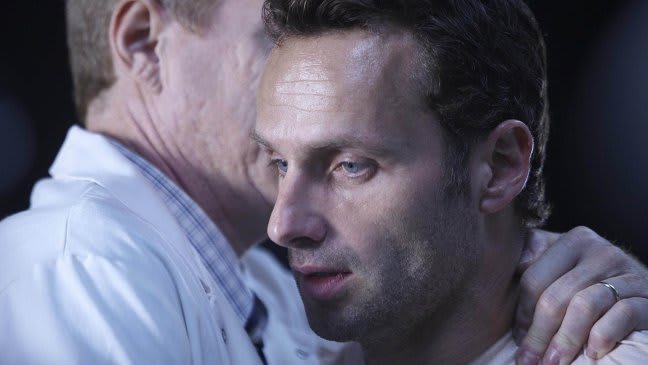 With AMC's The Walking Dead dragging its rotten corpse to its biggest and bloodiest season ever, fans can rejoice that there will be more murder, mayhem, and mysteries than ever before in Season 8. However, it is best that some questions be left unanswered, such as: Why is Rick Grimes the sweatiest man in the apocalypse? Who is the big spoon out of Negan and Lucille, and does Carl have to keep his eye-hole moistened?
However, out of all the riddles out there in #RobertKirkman's zombie apocalypse, everyone wants to know, "What started the outbreak?" While fans of the comic books have asked this question since Issue 1 in 2003, the show's inception in 2010 means even more fans are scratching their heads in puzzlement. Thankfully, it isn't just those who watch AMC's shuffling showstopper that demand answers, it seems that the cast themselves need to know more!
Gimme A Break
Speaking to Entertainment Weekly, Melissa McBride revealed what she would like most from the show, and no, it isn't a Carol/Daryl romance:

"I would love to have a sit-down conversation with one of the characters about how utterly bizarre our life has become. The other thing is I would like to hear: What is this virus? What's going on with that? What is this thing? Is there any end in sight? Is anybody looking into that somewhere in the world? How far has this gone?"
It could be a case of curiosity killed the Carol, because don't bank on Kirkman letting that that one slip anytime soon. The creator of TWD has previously said that only he knows what caused the world to tumble into such chaos, but also that it isn't important to the overarching story. Even with the arrival of Fear the Walking Dead, Kirkman wrote that although we would be getting closer to the origins of the virus, there wouldn't be a clear signpost spelling out what happened:
"I still maintain that's not an important aspect of the story. I think watching Fear the Walking Dead, you'll get a bigger picture of the world, but as far as digging down to actually find the smoking gun and realizing what that causes, it's really just unimportant to the overall story. If we were to do a companion to The Walking Dead and it was about a bunch of scientists that were working to find the cure and finding out the origins, that would bore me to tears."
Looking at the comics, #TheWalkingDead, and Fear the Walking Dead, all the entries are more about the people than the threat of gnashing walker teeth tearing your throat out. Arguably, it is the people that make the story and also differentiate Kirkman's world from most other zombie franchises.
Maybe one day — in a final issue or a final season — Kirkman will give us the answer, but for now, does it really matter? Even with the comics up to Issue #171 and the show approaching its 100th episode milestone, we are no closer to knowing what unleashed those demonic deaddos on the world to send the population tumbling.
When looking back at The Walking Dead in particular, ideas such as what caused the outbreak or chances of possible cures have only been briefly touched on. As far back as Season 1, Dr. Jenner was looking for the virus's origin, and we all remember Abraham and Eugene's short-lived trip to Washington in search of a cure. Beg all you want, Melissa, but don't expect to find the answers you were looking for.
Everyone has their own theories on the outbreak — which is all part of the fun — but to be honest, I have always been an advocate of the idea it was a bad batch of Walter White's blue meth that sent everyone human hungry. Well, it's an idea, isn't it?